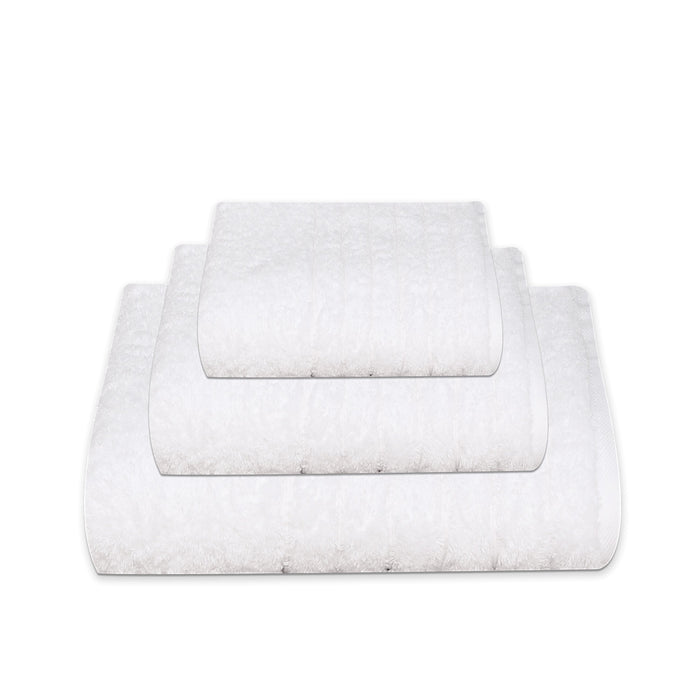 500gsm Ringspun White Hand Towels 100% Cotton
500GSM* Ringspun 100% Cotton White Hand Towels available individually and in packs of 6, packs of 24 and packs of 60.

Ringspun yarn is made by twisting and thinning the cotton strands to make a very fine, strong, soft rope of cotton, Ringspun cotton towels are more durable and last longer than regular towels.

Hand Towel size: 50cm x 85cm

Weight of each Hand Towel is 215 grams. Using the towel industry standard of calculating GSM this works out to 500GSM

Formula is;

Weight of towel in grams divided by size of towel in cm

In this case

215 g
---------
50cm x 85cm

= 505GSM

Machine Washable. Can be Tumble Dried.
Matching Bath Towels available.

* The quality of towels is determined by the GSM (grams per square metre).
Cheap quality towels have a GSM of between 200 - 300.
Better quality towels have a GSM of between 400 - 500.
Superior quality towels have a GSM of 500+.
The more grams per square metre means that the towel is thicker, more absorbent and longer lasting.
Made in Pakistan.