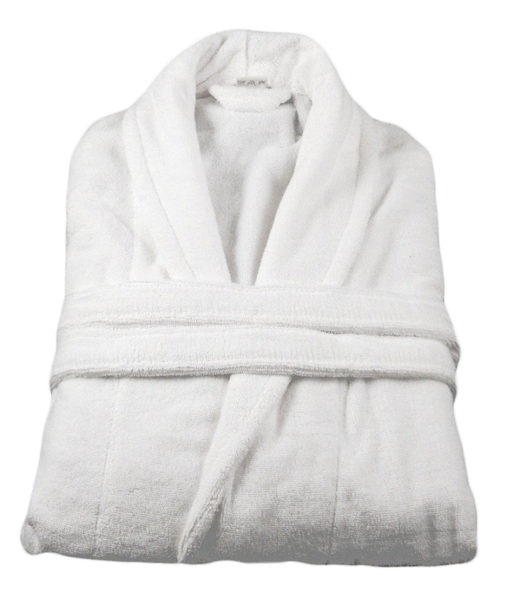 8 Pack Wholesale 100% Cotton White Bathrobes Dressing Gowns
Men's / Ladies Hotel Standard Soft and Superior 100% Turkish Cotton Terry Towelling Shawl Collar Bathrobe with Matching Belt and Two Pockets

400gsm quality which is good quality for terry towelling bathrobes

Made from Long Staple Turkish Cotton. Turkish cotton is one of the highest quality cottons in the world. The main benefit of Turkish Cotton is its absorbency power. In addition to the long staple fibre lengths producing a super absorbent bathrobe, it also makes them feel ultra soft.

The way Turkish Cotton is made ensures that it's tough and durable for everyday use. This means that they withstand the test of time and last longer. Perfect for a hotel or for creating an upmarket feel in your own home.
Using Turkish Cotton is sustainable, eco-friendly and user-friendly. Due to its efficiency and its high standards of performance and of function, Turkish cotton requires no heavy and harmful chemical processing in order to get a lot of qualities such as softness and absorbency.
Available in 3 Sizes
Medium Size
Chest size of bathrobe - 45" - 48" (114cm - 122cm)
Length of bathrobe (excluding the Shawl Collar) - 50" (127cm)
Large
Chest size of bathrobe - 49" - 52" (124cm - 132cm)
Length of bathrobe (excluding the Shawl Collar) - 50" (127cm)
Extra Large
Chest size of bathrobe - 57" - 60" (145cm - 152cm)
Length of bathrobe (excluding the Shawl Collar) - 52" (132cm
Machine washable. Tumble dry.
Please AVOID fabric softener and dryer sheets, as the chemicals will only reduce the softness of the bathrobes.
DO NOT USE bleach, bleach alternatives, non-chlorine bleach or any bleach by-products in the detergent as it stiffens, weakens and damages the fibres of the towel.
Made in Turkey