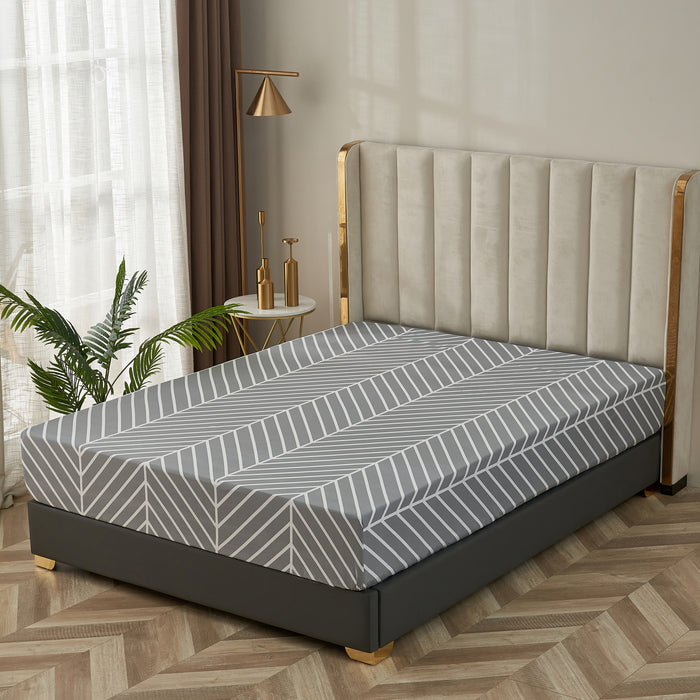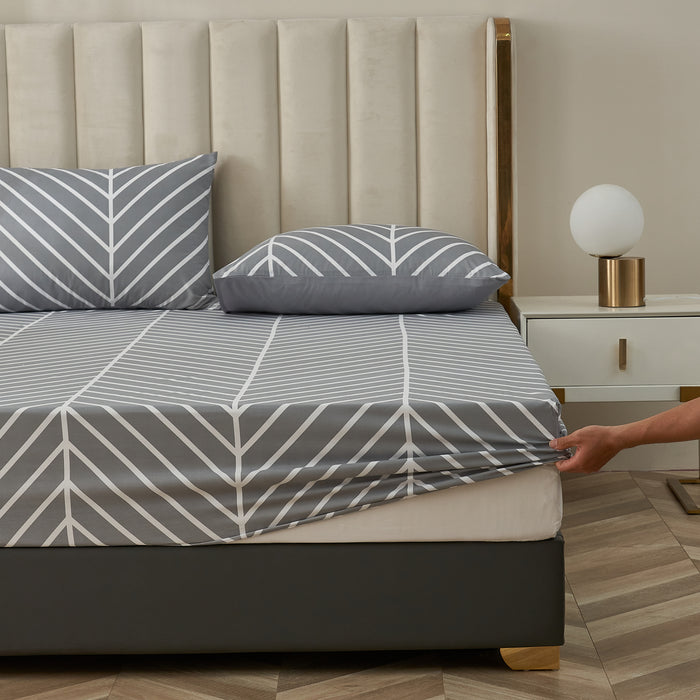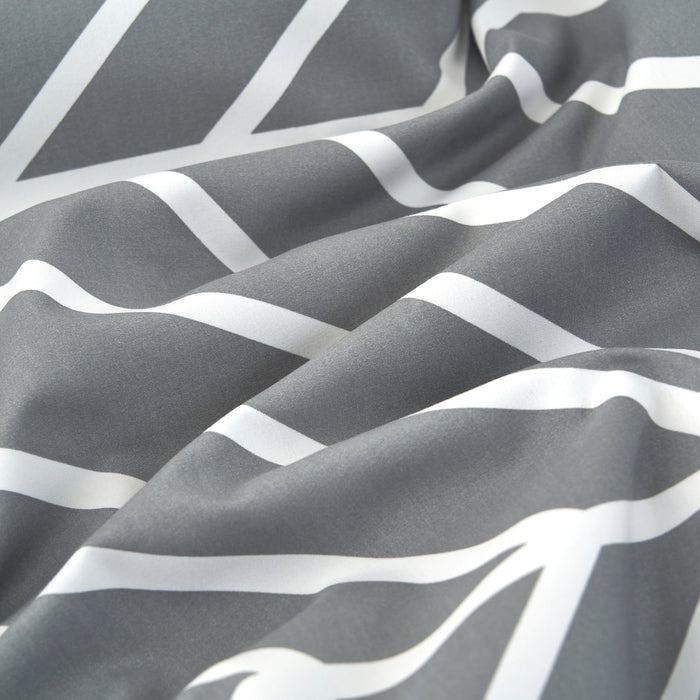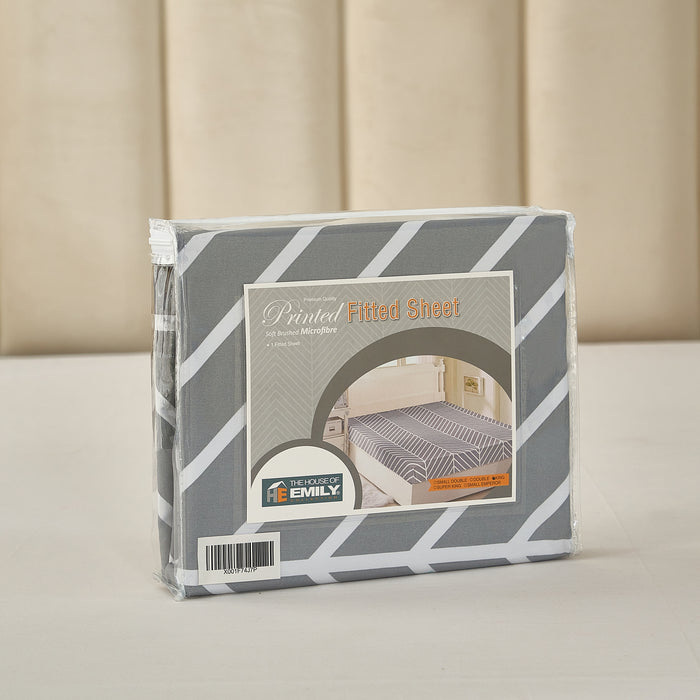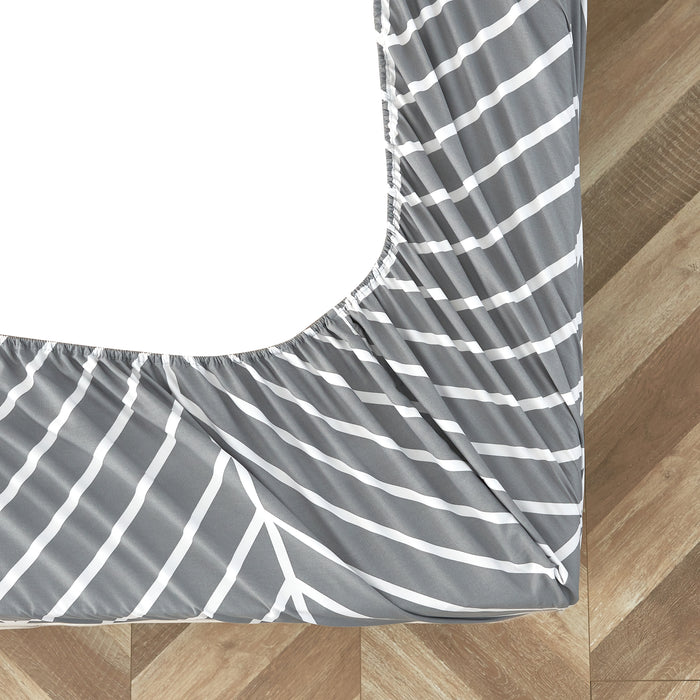 Grey Herringbone Microfibre 'Soft as Egyptian Cotton' Fully Elasticated Fitted Sheets
What Are Brushed Microfibre Bed Sheets?
Brushed microfibre bed sheets are made from fine polyester fibres. The softness of the material makes microfibre sheets feel like luxury bedding—at a fraction of the cost. The natural softness of microfibre is further enhanced by brushing. Brushing is simply when you take a fine-toothed metal brush and separate some of the loose microfibres, thereby agitating them and making them even softer.
What are the Benefits of Brushed Microfibre Bed Sheets?
In addition to being super soft and more durable than cotton, this luxury bedding item is also breathable, stain-resistant and anti-allergenic. This is due to the fact that microfibres are 100 times thinner than a strand of human hair which means that dust mites and other allergens will be prevented from forming on the bed sheets. Plus, microfibre produces 100% wrinkle free sheets, meaning your bed looks fresh and crisp from the second you put the linens on until the second you put them in the wash.
The tough, rugged microfibre bed sheets also stand up to wash load after wash load, never losing their soft, supple appearance or their stain-resistant qualities. You'll come out with a perfectly washed linen each and every time, free of wrinkles and pilling, ready to go on your bed and provide a perfect night's sleep. Simply put the sheets in your home washing machine and wash at 40 degrees with like colors. Then, throw them in the dryer and tumble dry your bed sheets on low heat. Remove the microfibre bed sheets from dryer as soon as they are dry. They can then go straight on the bed.
Our Double Brushed Microfibre Fitted Sheets have the following benefits / features;

1. Soft as Egyptian Cotton
2. Soft to Touch
3. Breath-ability of Cotton
4. Lightweight and strong fabric
5. Feels cool in summer and warm in winter
6. Easy to wash and dry
7. Wrinkle free
8. No need for ironing
9. Anti Allergenic
10. Cost effective
11. Fully Elasticated for a better fit
12. Pilling Free
Available in 5 sizes;
Small Double 48" x 75" + 12" Depth, 120cm x 190cm + 30cm Depth
Double 54" x 75" + 12" Depth, 137cm x 190cm + 30cm Depth
King 60" x 80" + 12" Depth, 150cm x 200cm + 30cm Depth
Superking 72" x 80" + 12" Depth, 180cm x 200cm + 30cm Depth
Small Emperor 80" x 80" + 12" Depth, 200cm x 200cm + 30cm Depth
Made with 100% Brushed Polyester Microfibre (90 gsm superior quality)

Double Brushed resulting in a much softer feel and smoother finish.

Machine Washable at 40 degrees. Tumble Dry - low heat only. Non iron.
Matching Duvet Cover Sets available.