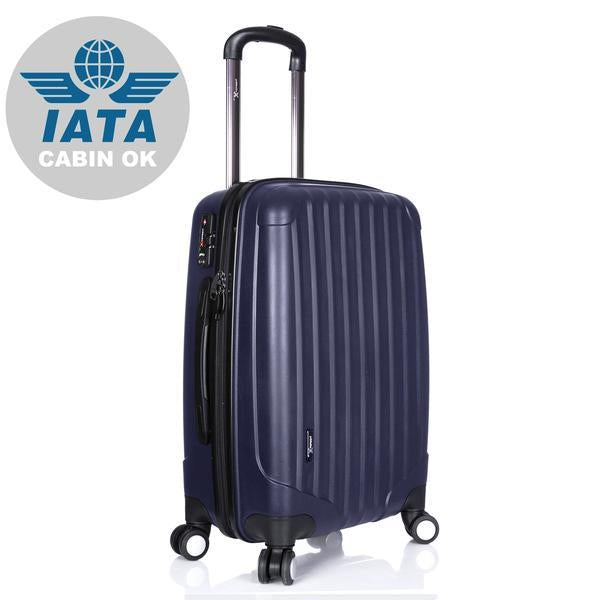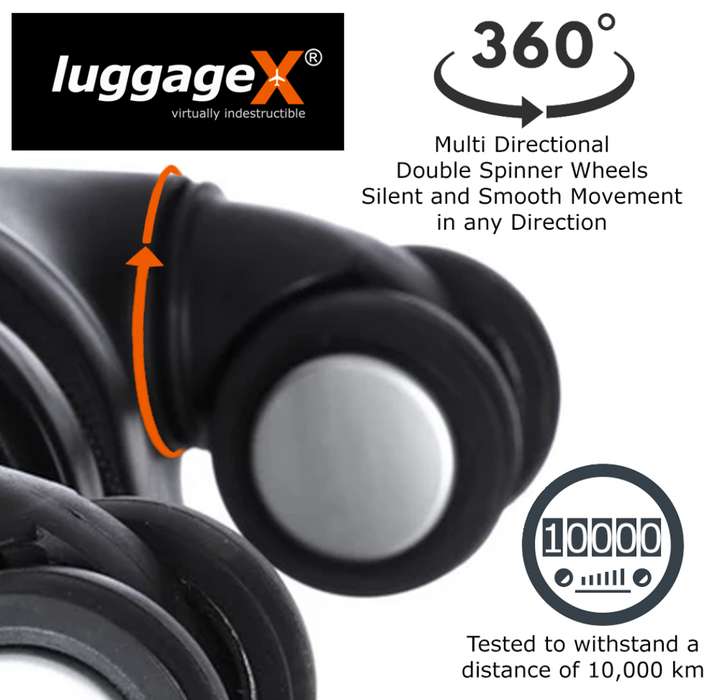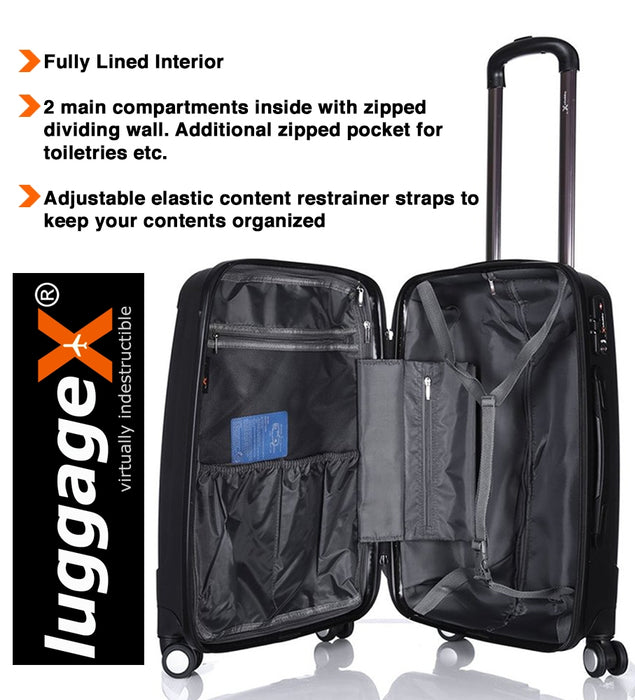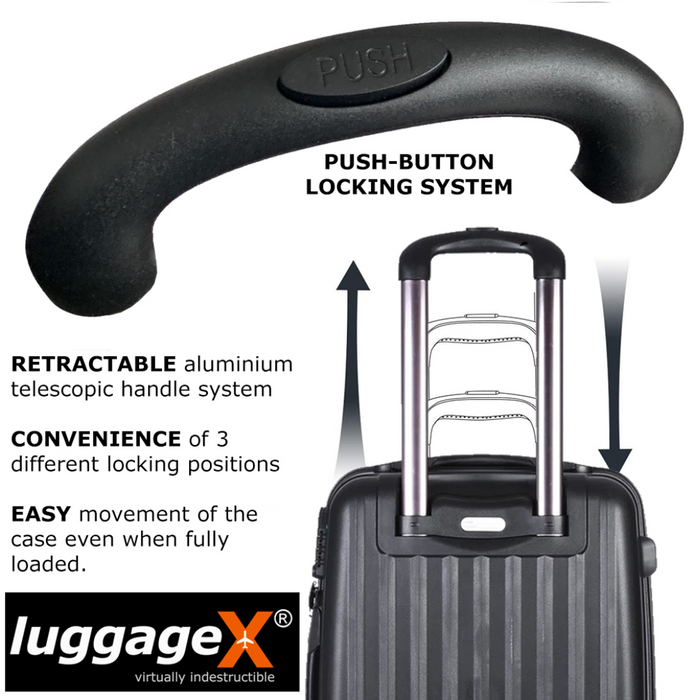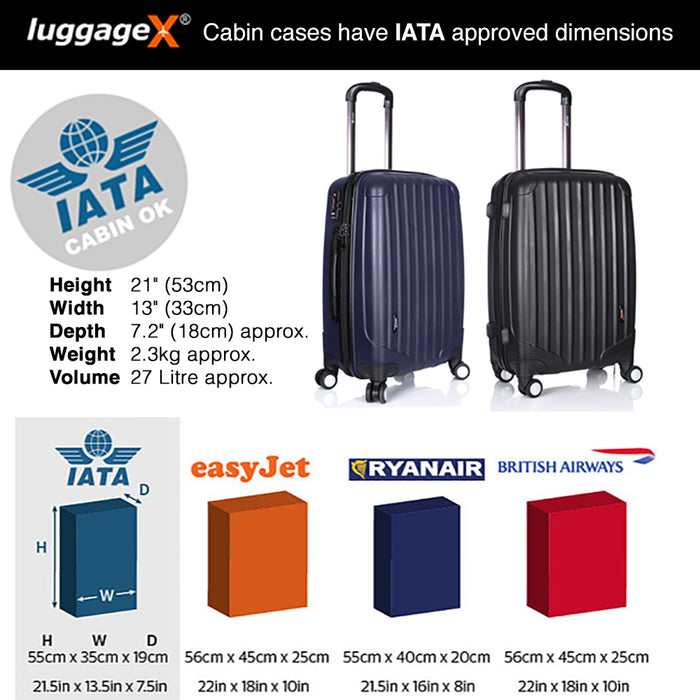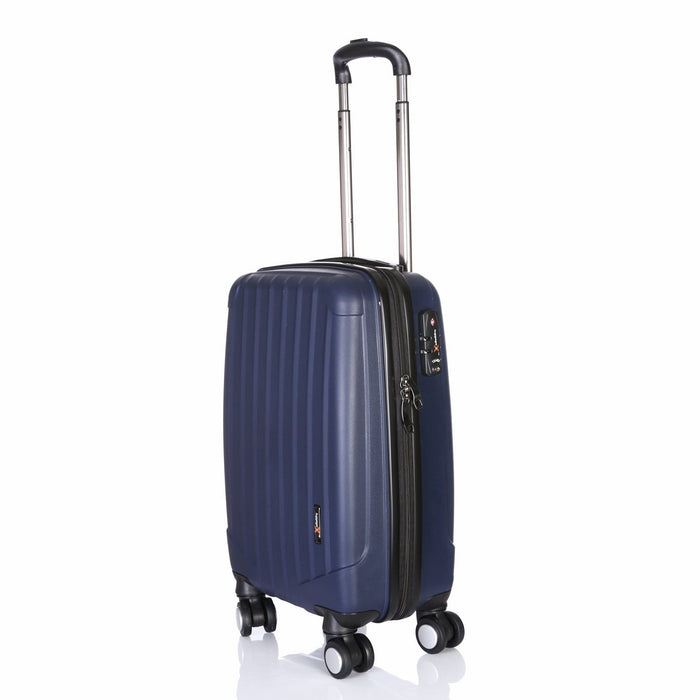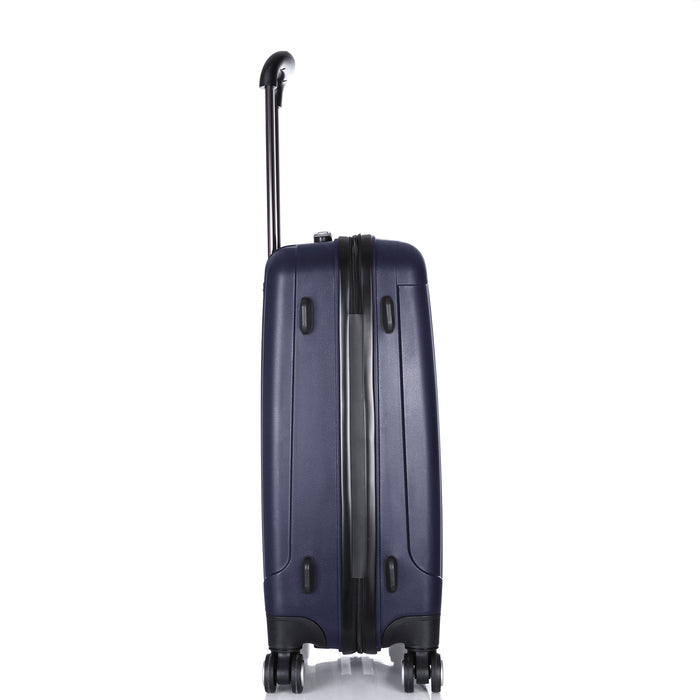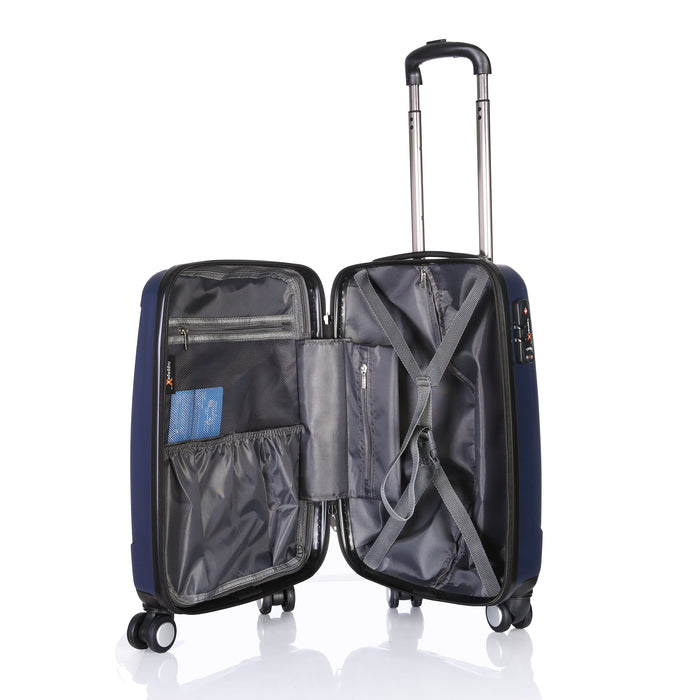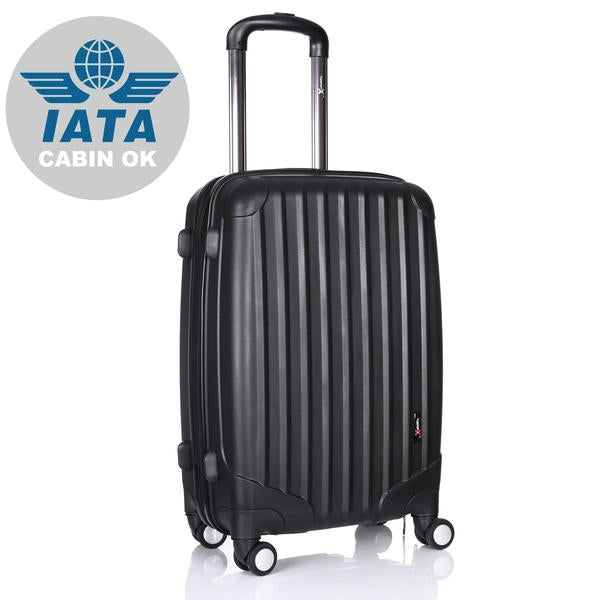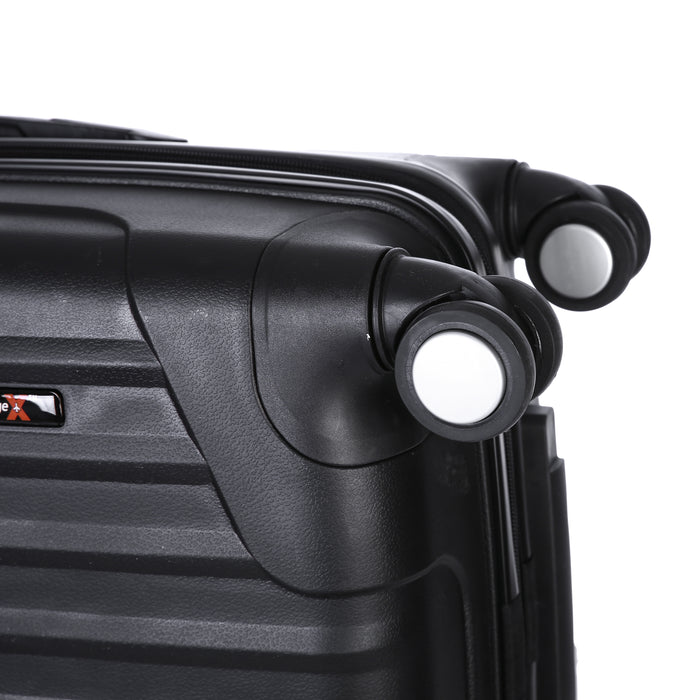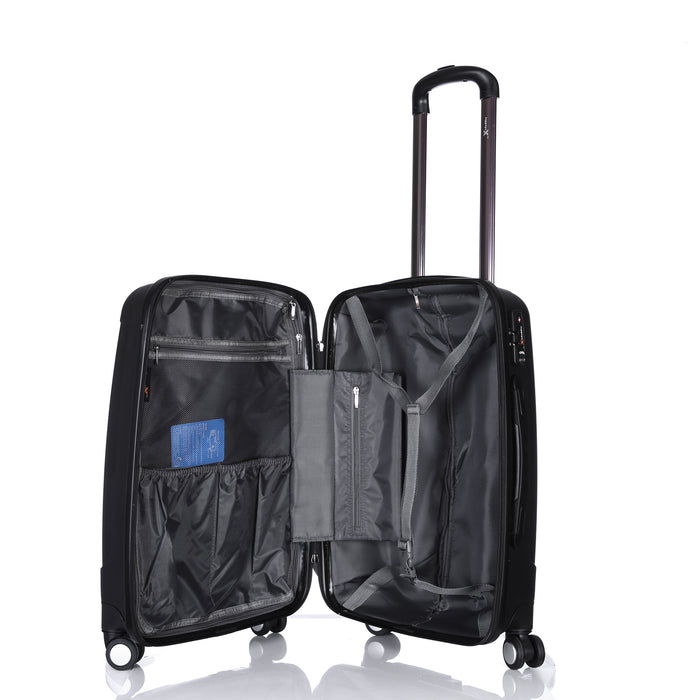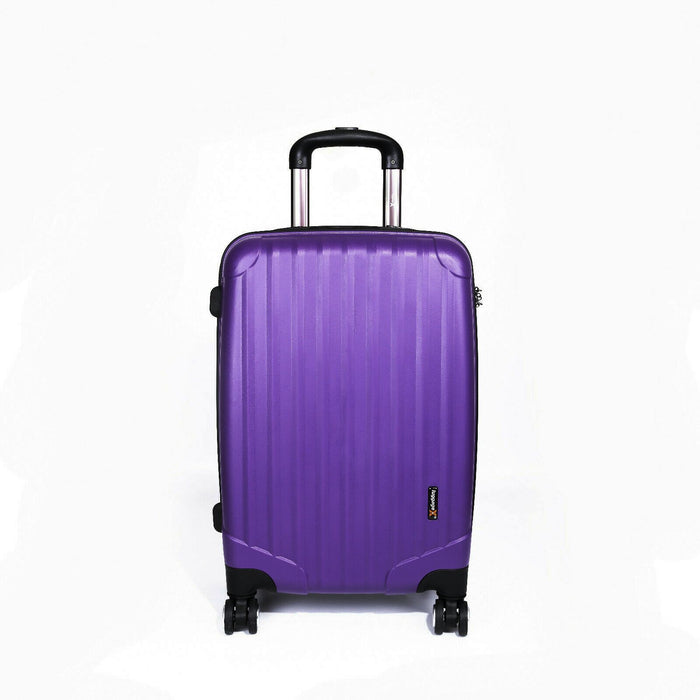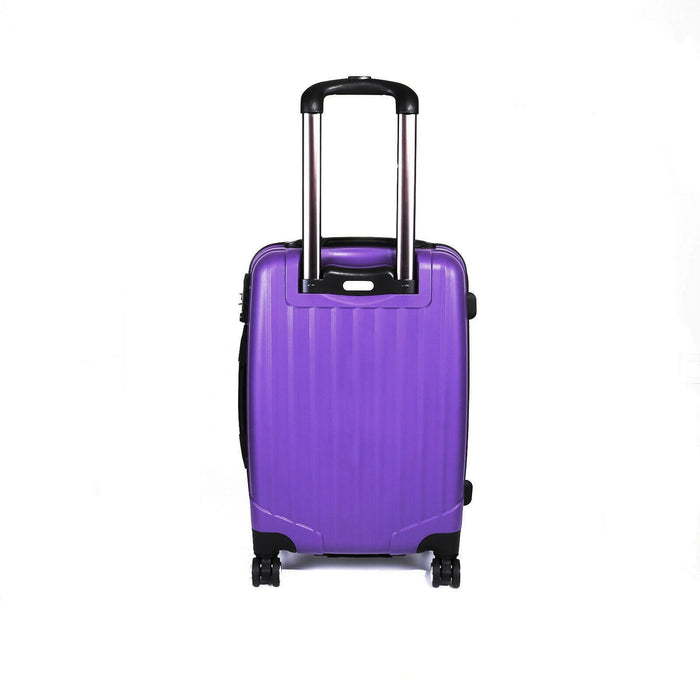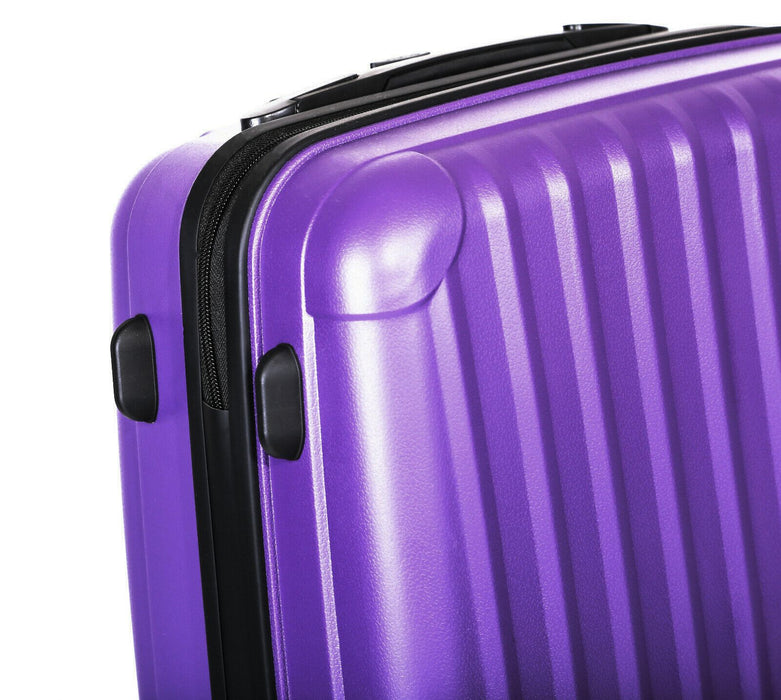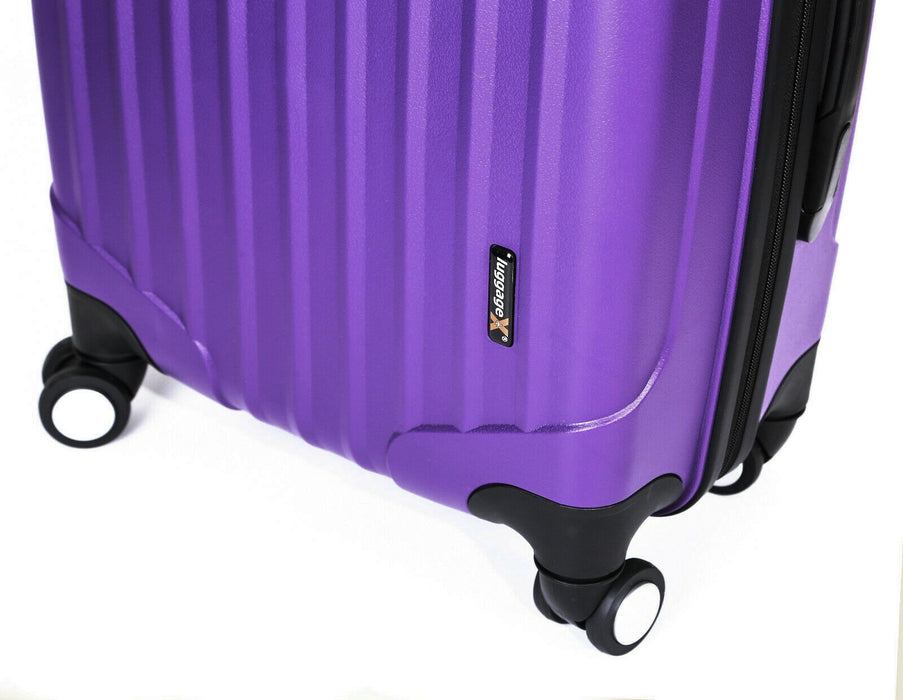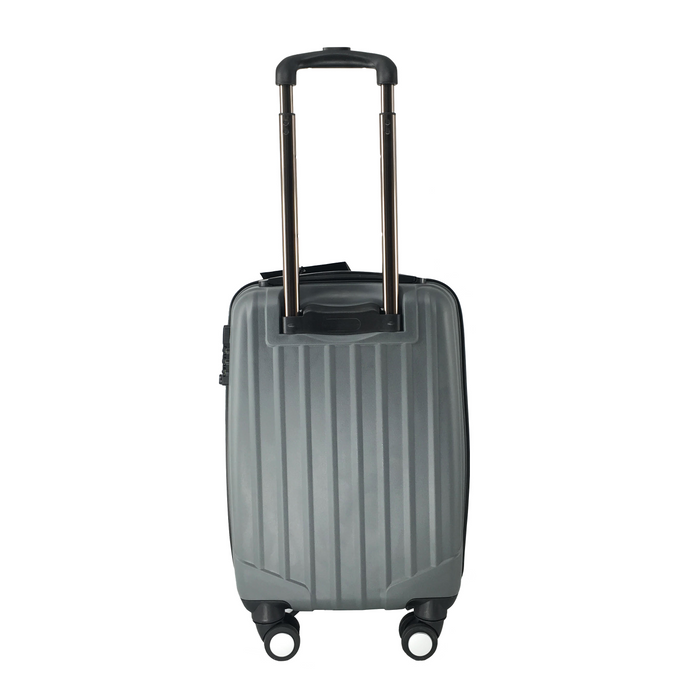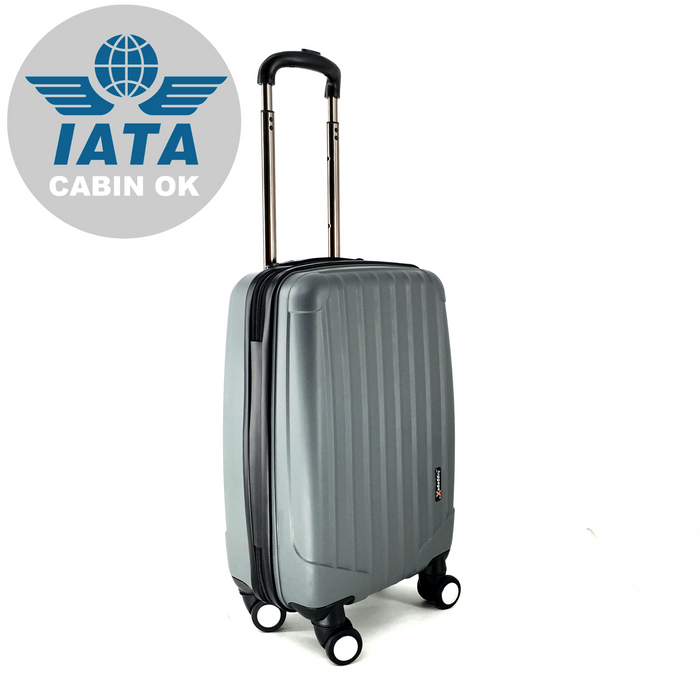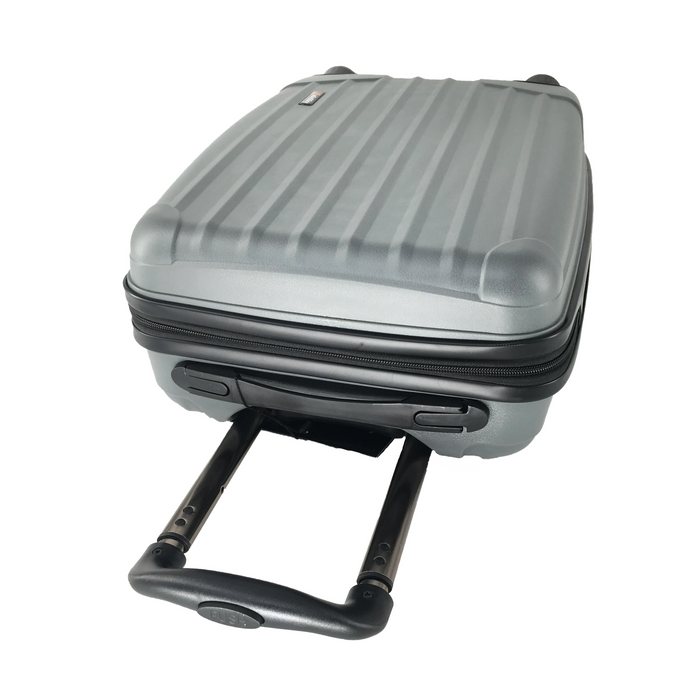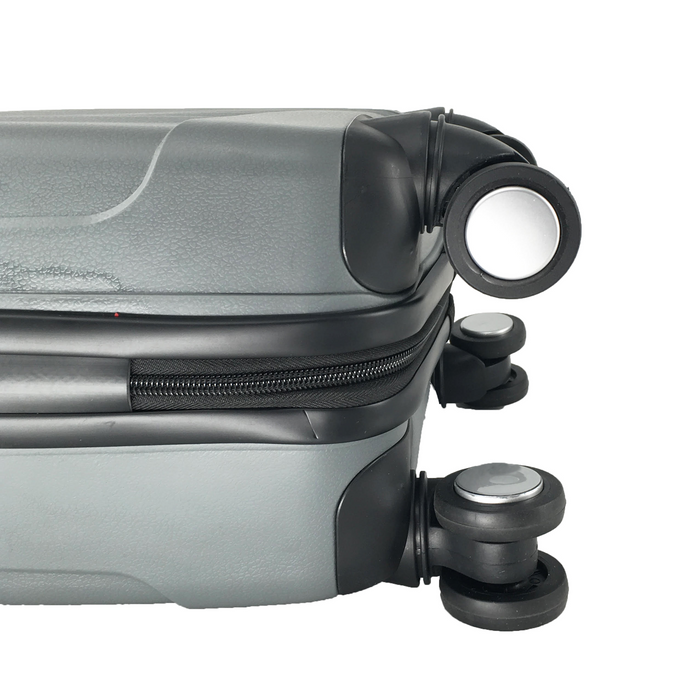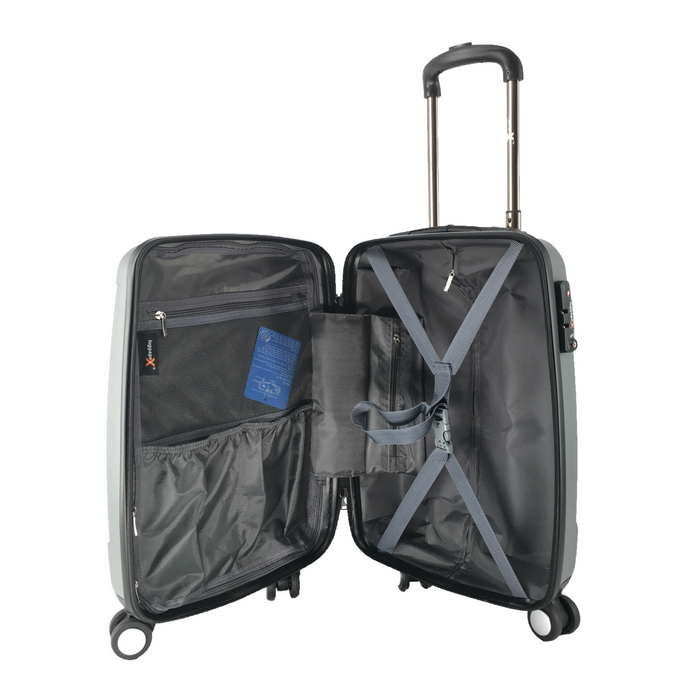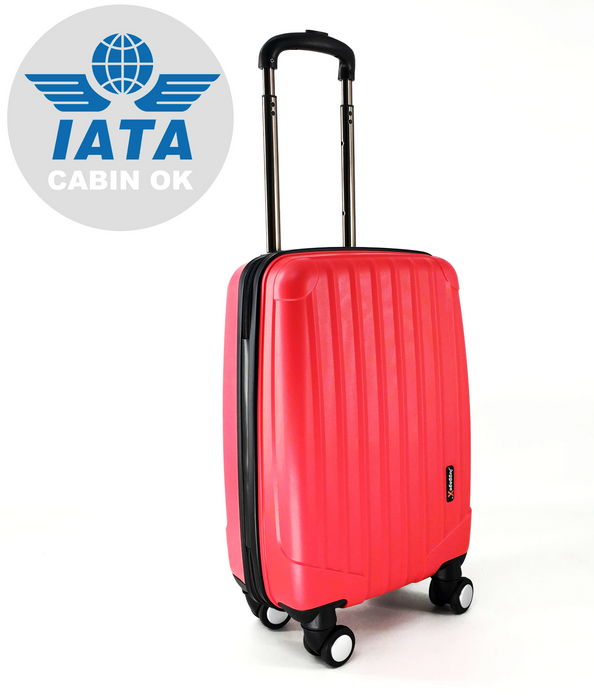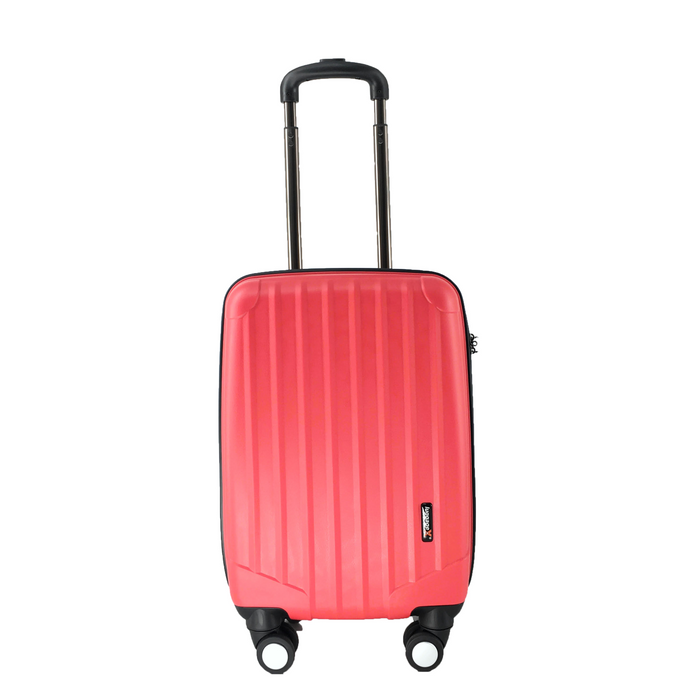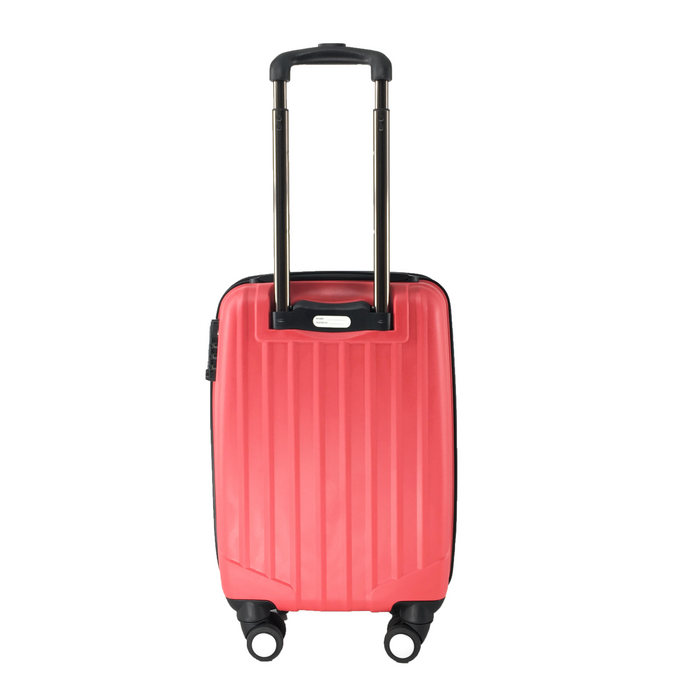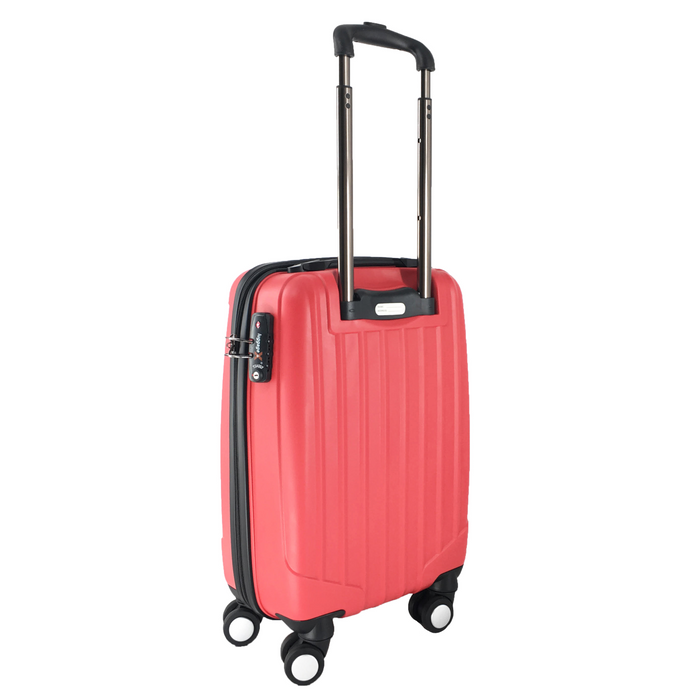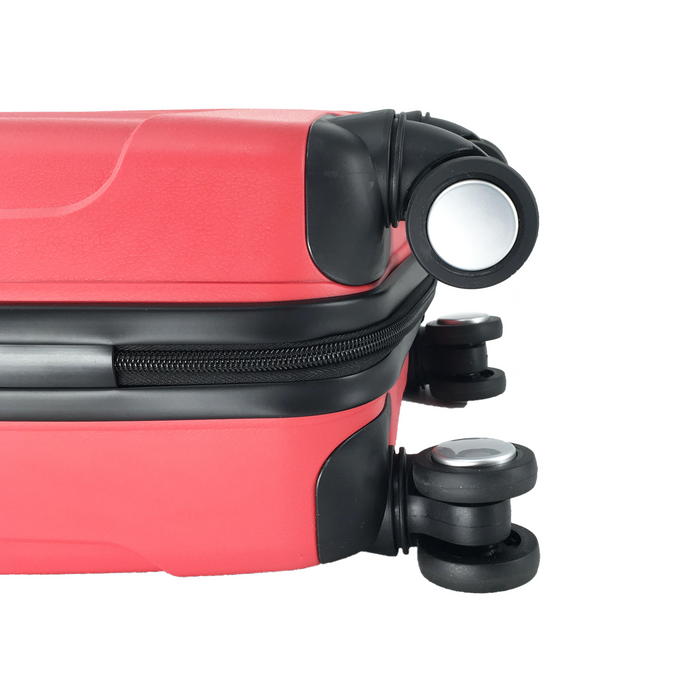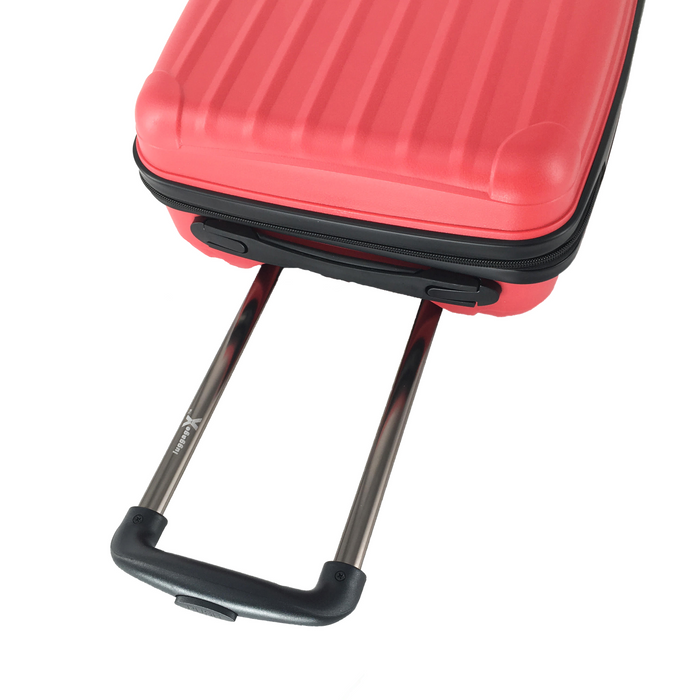 Hard Shell Cabin Suitcase 53x33x18cm 4 Double Spinner Wheels
Luggage X® 'Virtually Indestructible' Polypropylene Suitcases are hard-sided lightweight suitcases, renowned for their strength, security, and durability.
Cabin Case Dimensions
Height 21" (53cm) x Width 13" (33cm) x Depth 7.2" (18cm) approx. All Parts (wheels and handles) are included in these dimensions
Weight - 2.3kg approx.
Volume - 27 Litre approx.

IATA Cabin Approved for Ryanair, EasyJet, British Airways, Virgin Atlantic, Flybe and Many More.
Features:
1. High Impact Resistant Material ensuring a more durable shell.

2. Made from ultra lightweight Polypropylene.

3. 4 x Multi-directional double wheels (360 degrees) for optimum maneuverability. Case can be towed in conventional two-wheel mode, or moved when upright on all four wheels. These wheels have been tested in a distance test and have withstood a distance of 10,000km

4. Retracting towing handle with 3 different locking positions - one fully extended, one half way up and the other fully embedded into the case.

5. One Heavy Duty Carry Handle on the top of the case

6. Zip Closure with TSA Combination Lock

7. Heavy Duty External Zips

8. Fully Lined Interior

9. 2 main compartments inside with zipped dividing wall. Additional zipped pocket for toiletries etc.

10. Adjustable elastic content restrainer straps to keep your contents organized

11. Name & Address Tag on the back of the case

12. 5 Year Warranty

Luggage X 5 Year Warranty
-------------------------------------
Luggage X offer a 5 Year return to base warranty on their range of suitcases. Please read below for full details of this warranty.

This product comes with our guarantee that it will be free from defects in workmanship and material for the full warranty period (5 years from date of purchase). If it is determined that the problem is a result of manufacturing defect, we will promptly repair or replace the case and ship it back to you free of charge. Simply send the case,along with an explanation of the defect, and proof of purchase to the retail outlet from which the purchase was made. Return postage are the customer's responsibility and the cost of return postage cannot be reimbursed.

Although the fabric and components used in this product are tough and durable it should be understood that our products are not indestructible. All components such as the handle & wheel system, are exposed to natural wear & tear after extended use. This type of wear and tear is not covered by our guarantee. Our warranty also does not cover damages that result from overloading, transportation of unusual items, misuse or abuse of the product (including damage caused by airlines or other carriers - if such a problem occurs, a claim must be filed directly with the airline or carrier), nor does it cover minor cosmetic damages (such as abrasion, scratches or fading). All internal components such as the lining, straps and internal zips are also not covered by the warranty.

We reserve the right to relinquish all responsibility under this warranty for repairs if the item is tampered with or damaged by unauthorized persons or service facilities. The warranty also does not cover incidental or consequential damages, such as damage to, or loss of, the contents of a bag, loss of use, loss of time, or similar expenses. Please contact us with any questions or comments you have regarding your purchase. We value your opinion and feedback.