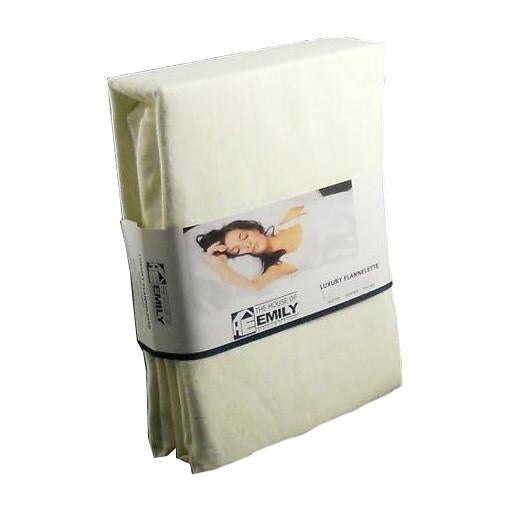 Small Double Brushed Cotton Flannelette 16" (40cm) Extra Fitted Sheet Cream
• Brushed Cotton Flannelette Fitted Sheet for a 4FT wide Small Double Mattress. Size 48" x 75" + 16" depth (122cm x 190cm + 40.64cm depth)
• Colour - Cream
• Brushed Cotton Flannelette (100% Cotton)

• Superior 160gsm Turkish Brushed Cotton Flannelette. Turkish Cotton is the best type of quality for brushed cotton bed linen.

• Elasticated all around the sheet for a better fit
• Care Instructions;
1. Wash before first use. Allow upto 5-7% shrinkage. These 16" deep fitted sheets are cut oversize in order to accommodate this shrinkage on the first wash.

2. Wash dark colours separately before use and for the first few washes
3. Tumble dry at the lowest heat setting or at the "No Heat" setting.

• Guide for fitting - We recommend allowing an extra two inches on the depth of the sheet to ensure that the sheet tucks right under the mattress. For example;

If the exact depth of mattress is 12 inches we recommend a fitted sheet with a 14 inch depth

If the exact depth of mattress is 14 inches we recommend a fitted sheet with a 16 inch depth